News
High blood pressure : a silent danger
on 2020/09/01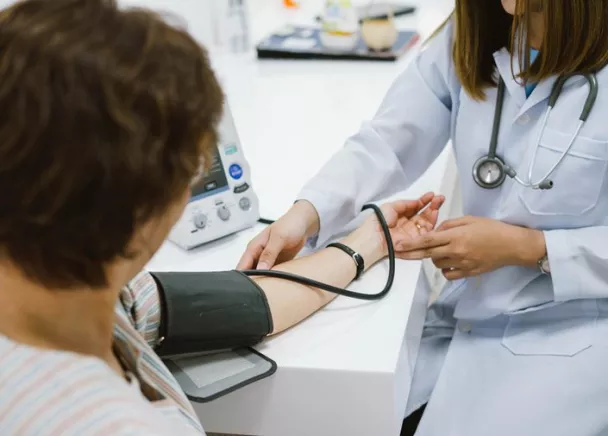 Systemic blood pressure is the pressure of the blood in the arteries that carry oxygenated blood from the heart to all organs of the body. High blood pressure occurs when the pressure exerted by the blood on the walls of the arteries is too high.
At the Seine Saint-Denis Private Hospital (France), Dr. Abdelhamid Bentounès1, cardiologist, former university professor and European expert on hypertension, sees patients suffering from this condition on a daily basis. Very often, the symptoms are silent, not perceptible without a control examination. Prevention and explanations with the specialist.
Care and treatment
Within the hospital, three cardiologists take care of patients presenting to the department of medicine specializing in hypertension and heart pathologies. "We provide consultations, on-call duty and follow-up for those hospitalized, explains Dr. Bentounès. At the same time, we benefit from state-of-the-art equipment that allows us to perform all types of examinations and interventions for complete diagnostic results. »
Cardiac ultrasounds, stress tests, ECG2 holter, ABPM3, systolic pressure index4, transoesophageal ultrasound or ventilatory polygraphs5 : no avenue is left to chance to detect hypertension. "We carry out all possible cardiology investigations on site," explains the specialist. Once the diagnosis has been made, we can prescribe the appropriate treatment and often... for life. Food hygiene will also contribute greatly to recovery. »
Prevention remains the key word
In the majority of cases, patients with high blood pressure do not perceive any symptoms . "The Anglo-Saxons speak of a silent killer. It is often a chance discovery during a check-up..., describes Dr. Bentounès. It is important to make as many people as possible aware of the risks of detecting high blood pressure too late, which can then lead to a stroke, a heart attack or even impact the kidneys, brain or heart... ».
From the age of 50, an annual check-up with a specialist is recommended.
In the meantime, "it can be very simple to monitor your blood pressure through blood pressure self measurement", says the cardiologist. This thanks to the rule of 3 (available on the Assurance Maladie website)".
No one is immune to the risks of high blood pressure and the advice of a specialist remains the safest way to prevent it.
1 : Author of the book "L'hypertension artérielle : pratique clinique" with Michel SAFAR, published by ELSEVIER / MASSON.
2 : Device allowing to record, during 24 to 48 hours, the electrocardiogram of a patient.
3 : https://ramsaysante.fr/vous-etes-patient-en-savoir-plus-sur-ma-pathologie/...
4: Ratio of ankle systolic blood pressure to brachial systolic blood pressure.
5 : Method used in the observation or research of sleep apnea. Sleep apnea is often associated with high blood pressure.