News
Portrait of Charlotte
on 2020/11/16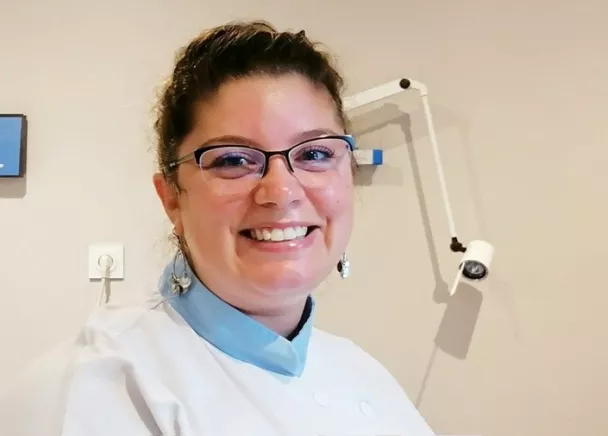 Charlotte Bretonnet-Caradonna is a cardiac rehabilitation nurse at the Jacques Cartier Private Hospital (France). During her training, a serious motorbike accident deprived her of one of her arms, preventing her from graduating. After months of re-education and combat, her efforts have finally been rewarded and now allow her to carry out meaningful missions on a daily basis.
What is your function ?
I should have graduated in November 2011 but my accident, which occurred a few months before, forced me to interrupt all training. Thanks to the CRIP of Castelnau le lez, which includes a Nursing Training Institute (IFSI) that trains people with the recognition of disabled workers, I was able to resume in February 2013, after my file was validated by a guardianship commission. Then, I obtained my diploma in July 2013 and the adventure could finally begin! I first worked at the blood depot of the Jacques Cartier Private Hospital, but I missed the human contact and teamwork. The opportunity to enter cardiac rehabilitation in March 2017 as a nurse came at just the right time. Today, despite my disability, I can carry out all my missions independently and, when necessary, a colleague helps me with the most technical care.
Why did you choose this job ?
At the beginning, I wasn't predestined to be a nurse at all, I wanted to work in forensics. It was after two days of observation at the hospital with my sister, at the time a paediatric intensive care nurse, that I started! It then became a real vocation.
What do you like most about your daily life ?
Our role is to offer therapeutic education. We are here to help patients with all types of heart pathologies to live better in their daily lives, through advice and increased autonomy. We will also explain to them the particularities of their disease, the associated treatment and answer all their questions. Some of them are sometimes in shock, they don't realize what is happening to them and our goal will be to assess their level of understanding and explain to them why it is important to follow the drug treatment that may be prescribed to them. What I like most is really the relationship with the patient. You make yourself useful in a very complicated moment. Our mission is accomplished when the patients realise that cardiac rehabilitation, which is not compulsory, has been essential for them. This recognition and the teamwork I like very much.
What are your plans for the future ?
My objective is to continue to train while remaining in this department that is close to my heart. For example, I have had the opportunity to follow an university diploma in pain management and I use it regularly. It has only been three years since I discovered therapeutic education and for the moment everything encourages me to continue in this branch.
Do you have a nickname at the hospital ?
My colleagues call me "Chachou"! We all have nicknames in the service because we have become friends. This goes far beyond the necessary professional collaboration or simple teamwork.