News
Portrait of Laëtitia
on 2020/11/20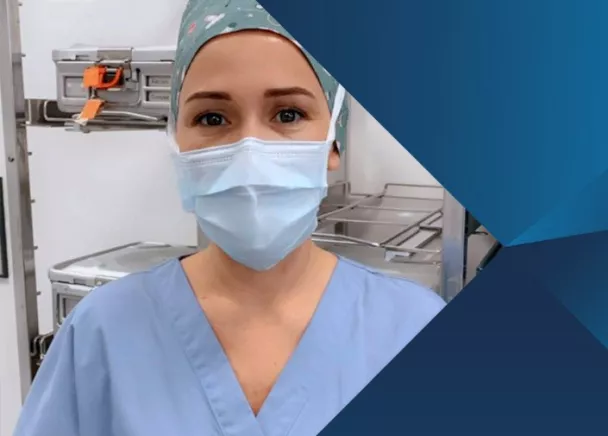 What is your function ?
I am a nurse in the operating room at the Domont Clinic (Ézanville, Île-de-France). It is an exclusively ambulatory facility. It mainly performs orthopaedic surgery of the lower limbs (hip and knee prostheses, arthroscopy, foot surgery), upper limbs (hand and shoulder surgery) but also visceral, aesthetic, ophthalmologic, ENT and endoscopic surgery.
How long have you been working at Ramsay Santé ?
I started working at the clinic as a temporary worker in the post-intervention care room in 2014, before signing a permanent contract in October 2017. Initially, the clinic was owned by the Capio Group, which was bought by Ramsay Santé in 2018.
Why did you choose this job ?
In high school, I went on to study for a baccalaureate specialising in medical and social sciences. I already knew that I wanted to work in the paramedical field.
At the same time as preparing for my baccalaureate, I took a competitive examination preparation course at the lycée. I took the nursing examination during my final year in order to join the Institut de Formation en Soins Infirmiers directly after my baccalaureate.
During my training to become a State Registered Nurse (IDE), I did several internships (block, recovery room, resuscitation...) which allowed me to clarify my professional orientation.
After obtaining my IDE diploma, I started my career in a surgery/resuscitation/ post-interventional care room (SSPI). This position reinforced my desire to be involved as closely as possible in the surgical management of patients.
What do you like most about your job/day-to-day life ?
The days are very varied... I like the diversity that this job offers, and the fact that no two days are alike.
I'm interested in human anatomy, the different operating techniques, the different roles I can play. A few months ago, I was trained as a Competent Person in Radioprotection (PCR), this job is very enriching and exciting both technically and humanly!
During my career, I spent four years as a private nurse. It was a very positive experience but it made me realise that I missed teamwork and the different technical care.
At present, I am very happy to be working in a structure with colleagues who have this team spirit, in order to work in good conditions and provide our patients with optimal care.
Do you have a passion ?
I'm a sportswoman! I dance and I run. These moments allow me to evacuate all the tensions of everyday life, it's very important for me!
What are your plans for the future (pro) ?
I am currently in the process of validation of acquired experience (VAE) to obtain the diploma of State-qualified Operating Room Nurse (IBODE). This VAE is an enriching job allowing me to complete my technical knowledge that I have obtained through my professional practice over the last few years. Moreover, it allows me to reinforce my theoretical knowledge in terms of regulations, safety and the environment. And thus improve my practices and develop my skills. It's very fulfilling.