News
The Research and Teaching Department mobilized against Covid-19
on 2020/05/12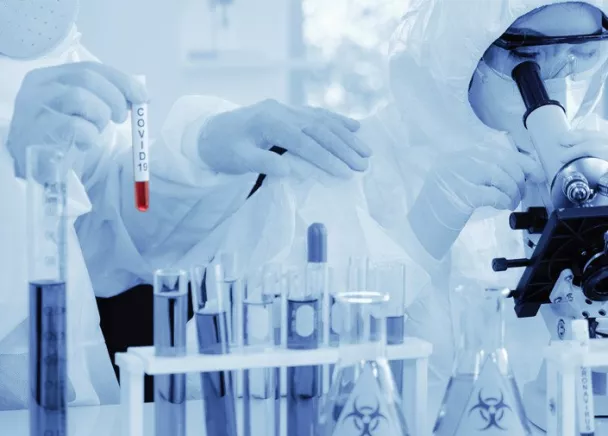 Since 2013, the Research and Education Department (DRE) of the Ramsay Health Group has been supporting innovation in therapeutic and diagnostic research. Committed against Covid-19, it participates in several clinical studies: national registries but also prevalence studies and therapeutic trials. Interview with Stéphane Locret, physician, Director of the DRE and Aurélie Courtin, research biologist and project director.
How does the ERD work ?
Stéphane Locret : The structure benefits from public funding to be able to support and advise our doctors in their research projects and scientific publications. This allows us to promote the fields of excellence of the group's researchers. At the same time, we develop institutional or industrial partnerships.
What does the DRE's investment in the fight against coronavirus consist of?
Stéphane Locret : It acts on two levels. Firstly, we promote the integration of data collected by our institutions into external national registries. Ramsay Santé has a strong presence in France, particularly in the Ile-de-France region. Since the beginning of the health crisis, its establishments have received many covid-19 patients, which has made it possible to collect a large amount of clinical, biological and medical data. Our role has therefore been to promote them in these registries, which will be useful in the work done and to come by all our researchers. At present, they allow us to advance the studies of several multicenter cohorts on the impact of covid-19 and, to cite a specific example, on cancer patients in particular.
Secondly, the DRE is working with the Ministry and the coordinating centers to ensure that our establishments are integrated into national therapeutic clinical trials. In this respect, we have an investigator center in the CORIMUNO-19 study, for example.
Aurélie Courtin : In addition, we support the development of clinical trials that we sponsor. A few weeks ago, we launched a new call for projects aimed at practitioners in the Ramsay Santé group. The application procedures have been accelerated. Today, five proposals aimed at advancing covid-19 research have been accepted by the Scientific Orientation Council. Their protocol is currently being written.
Why is this commitment of the DRE important ?
Stéphane Locret : It is fundamental to show the involvement of our practitioners in the management of this epidemic both in terms of care and research, with a real willingness to act on the front line.
Aurélie Courtin : It's true that the liberal sector is often a little forgotten when it comes to research. However, Ramsay Santé has a real pool of talented practitioners who are eager to get involved, whether in therapeutic trials or research projects.