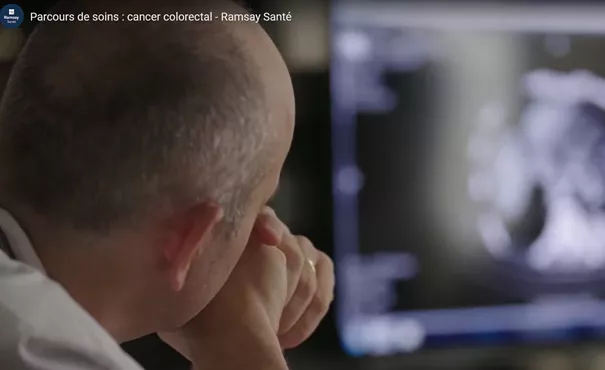 Innovation Award nominée uses multidisciplinary team to excel in precision medicine
Hi Pascal Artru!
You are one of the Ramsay Santé caregivers nominating a project for the Innovation Award 2022. Where do you work?
I work in the Mermoz Cancer Institute within the Ramsay Santé Jean Mermoz private hospital in Lyon. I have been developing the gastro-intestinal oncology activity there since its creation in 2008. We are fortunate to have a complete range of GI pathologies on the site. It includes everything from diagnosis onwards. Among other things; an excellent endoscopy center, a very active clinical research team, and, above all, a perfect multidisciplinary collaboration - oncologists, surgeons, radiotherapists, pharmacists, etc.
What is the idea of your project? How did you come to think of it?
Advances in molecular biology have led to a better understanding of the tumors' genetic looks (their "genomes"). If we can identify the genetic characteristics of each person's cancer, we can make them available for new treatments. This can sometimes revolutionize the prognosis of cancers with bad prognoses, for example, pancreatic cancer, where for example the use of olaparib has led to great improvements. 
However, the problem is complex, with a dramatic gap between potentially actionable mutations and the initiation of a targeted treatment. To take the example of pancreatic cancer, 17 to 24% of tumors have targetable abnormalities, but in a recent study in the United States, only 4% are treated. The same problem exists for cancer of the gallbladder, lungs, breast, or ovaries.
We started a collaboration with "ePATH", a private molecular biology platform, and set up a monthly multidisciplinary molecular consultation.
We talk about the availability and quality of tumor samples, actionable abnormalities, and treatments available outside or in therapeutic trials. Due to the cost of molecular tests, we need to be better at selecting the patients who are likely to benefit from targeted treatment. If we perform them on all patients, we would see both logistical congestion and rapid inflation of expenses.
Getting together with molecular biologists, pharmacists, and all oncologists to compare our knowledge is a must for us to offer the patients personalized and innovative treatment for their cancer.
The idea came to me while looking at the example of the major research centers such as Gustave Roussy and Curie, which were the first to set up this type of molecular multidisciplinary consultation meeting.
What have you learned?
These multidisciplinary conferences, and the knowledge exchange with our colleagues in pneumology and oncology, have enabled us to learn more about the toxicities and other characteristics of drugs that we had not previously used.
For example, we had a young patient with metastatic colorectal cancer and a special "KRAS G12C mutation". Thanks to our new insights, we were able to use a new inhibitor medication previously reserved for patients with lung cancer with the same mutation. The experience of our pulmonary colleagues guided us in the use of the molecule and the management of its side effects. We have also developed collaborations to achieve early or very early access to new drugs.
The continuous training on the latest molecular advances has made us all better at therapeutic decision-making.
What about the patients?
Belonging to diagnostic groups with previously poor prognoses, they are delighted and feel reassured to see the quality of the care. They appreciate the possibilities that open up to participating in therapeutic trials and early phases with new treatments.
What's next?
We are now at a monthly meeting frequency, but it will probably be necessary to increase it in view of the rising number of dossiers to be studied. We are learning how to rationalize our spending on molecular tests. If the patients are not likely to benefit from the tests, we should not prescribe tests to patients. An economic and scientific assessment of this will be carried out at the end of 2022.
What is your greatest pride in this?
It is to be the probably first private center to have implemented this molecular multidisciplinary conference. The aim of this innovative precision medicine project is to keep our Jean Mermoz Cancer Institute at the forefront of progress and to continue to offer patients the best possible personalized and comprehensive care.
Thank you!
// Ramsay Santé Innovation and partnership hub